uDesk on Azure Virtual Desktop
uDesk is an on-campus computer lab experience accessible from any browser. With an internet connection, any App State user can access software applications available on campus from their own devices.
Students
This tool is an equitable resource that allows you the App State experience with access to software pertinent to your majors and course assignments at your own convenience and from any location.
NOTE: Access to GPU uDesk resources are by instructor-approved request only. GPU resources will not be visible until you have been granted access by your professor. Submit this Support Ticket for Account Assistance to request access.
Faculty and Staff
This tool helps you work off campus and access enterprise campus software and services from any device with an internet connection.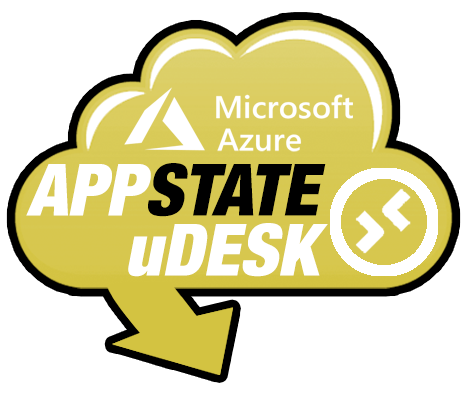 Not sure what Software is available?
We have a list of the most commonly used software for campus and we also have a master catalog of software for all of campus. Visit our software list or search our catalog to find what you need and come back here to get started.
Work from home options for employees
App State University employees who need to work remotely can find information about other available resources in the Keep Working section of our self-help Knowledge Base. You can find information about how to help yourself as well as how to support your students in a hybrid classroom situation.
Trouble connecting?
Having trouble connecting to uDesk? Not finding the software you need? Submit a Service Desk request and someone in IT Support Services will reach out to help.
---
Optional Desktop and Mobile Clients
While the web client is the easiest and most common way to access uDesk there are times when the desktop or mobile remote desktop client may offer an improved experience.
App State employees can install the client on their managed devices from either Software Center on Windows or using Self Service on an Apple device.
Users can install the client on personal mobile devices from either the Google Play Store on Android or the App Store on iOS.
Desktop clients and instructions for Linux, macOS, and Windows are also available for personal devices